Metsovo is one of the most picturesque mountain villages in Greece for good reason. It is situated among towering mountains and very close to the Pindos National Park (Valia Calda) and two ski resorts for winter sports enthusiasts. In addition, Metsovo can be proud for its rich cultural and intellectual history and it is home to several major national benefactors like George Averof, Michael Stournaris , Nicholas Tositsas in honor of which our National Technical University is named Metsovio!
↓ Accommodation || ↓ View all Metsovo photos || ↓ Metsovo map
Much of the growth achieved in Metsovo in the economic and cultural sector across the centuries is due to its apparent isolated position. Metsovo is located between Epirus and Thessaly in an area called the Katara (curse) passage due to the difficulties people met when trying to go through it especially during winter time. Its importance was recognized by the Byzantine emperors as well as by the Ottoman sultans who were giving privileges to Metsovo residents in order to facilitate or sometimes allow the passage between western and eastern Greece.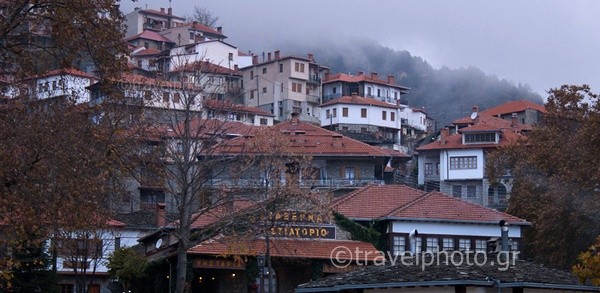 Metsovo beyond the historical and rich cultural and spiritual tradition that characterizes it, has been known for several more reasons. The beauty of not only the landscape but of the village itself is an attraction for tourists. The village is built in an altitude of 1,200 meters and most houses are stone mansions, several of which have been renovated with great care and attention. It has a central square where a great number of events and festivals take place, especially during the summer months, while around it there are several restaurants with delicious meats, cafes and enough shops with folk art, local dairy products and other goods. Moreover, some inhabitants of Metsovo deal in a professional level in the arts of woodcarving and textiles which seem to "rejuvenate" because of strong demand for their products by tourists.

Cheese and dairy Metsovo products
Before leaving Metsovo don't forget to buy some "pounds" from the famous and reputed locally produced cheeses. Smoked Metsovone , Metsovella and Metsovisio cheese types are produced and found only in Metsovo.
Metsovo ski centers, Gallery and folk art museum.
Do not miss
Two ski resorts in the region, Karakoli (Karakoli ski center, Tel:26560 41345) and Politsies (Politsies ski center, Tel:26560 41095 )
Averoff gallery which houses works by famous Greek artists
Folk art museum in the impressive mansion Tositsa.
Metsovo Accomodation
Find the best prices for Metsovo hotels and guesthouses from booking.com

Photos from Metsovo village
Metsovo map