Methoni is a small but beautiful large village in Messinia Peloponnese with one of the most representative and preserved medieval castles with a distinctive octagonal tower known as Mpourtzi. Continue to text or view photo section
Access to Methoni
Methoni is located 61 km from Messinia's capital Kalamata, 220km from Patra and 292km from Athens. From Athens take the road to Tripoli, continue to Kalamata and a few kilometers before arriving at Kalamata turn right towards Messini. In Messini follow the road Kalamata-Pylos, and when you arrive at Pylos there are 10 easy to follow kilometers to Methoni.
View Messinia prefecture photobook with some of the most interesting destinations, including Methoni, in this colorful and amazing part of Peloponnese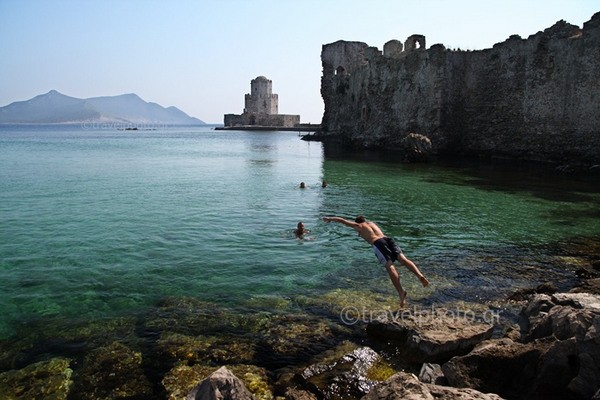 The village of Methoni has about 1,300 residents. Apart from its castle it is famous for the delicious food served in taverns and restaurants by the sea along with many beaches either on the coastal edge of the village or in close driving driving distances. When you arrive at Methoni go to the central market or follow the second path that leads directly to the castle and the beach. Most houses are tiled deck with flowers and small balconies.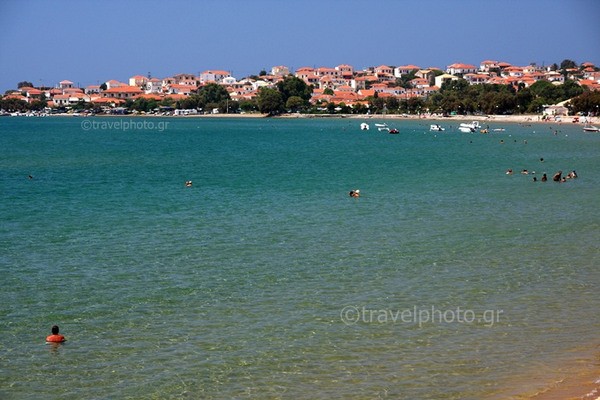 Methoni and its medieval castle with Bourtzi tower
Methoni's  attraction would not be other than the famous medieval castle. This is one of the most important fortifications ever made in Greece and is a characteristic castle-city example. The entrance to the castle on the north side and a wide moat separates it from the mainland. Among them stands an impressive stone bridge with 14 arches! Within the walls of the castle, nice marks are the Church of Transfiguration, a tall granite column known as column Morosini, the walled Venetian carved lions and the ruins of the Ottoman baths.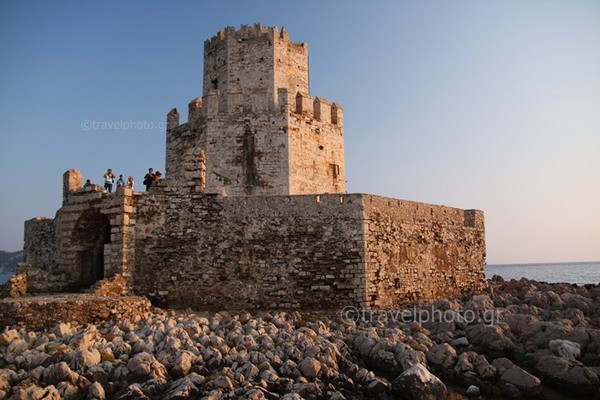 On the south side of the castle built in the 15th century, you will find the tourist attraction of the area, the famous
octagonal tower Mpourtzi (or Bourtzi)
. Then, of course, its role was purely defensive and was used as a place of torture and interrogation. Binds to the castle through a stone bridge and the view from there when the sea is rough is literally breathtaking.
In Methoni you can enjoy the beautiful sunset. The landscape is transformed when light projectors illuminate the castle. The walk to the beach and under the lights and tall walls is really something that should not be missed.
View MAP and click on the redmark to see driving directions or check available hotels at Methoni from booking.com.

Methoni photos
text / photos: Yiannis Tsouratzis
Return to
Photo section
Methoni map