Our text is translated in English using Google translate service
The temple of Apollo Epikourios ('Apollo the Helper') is one of the most important archaeological sites in the Peloponnese but the entire Ancient Greek world. Located southwest of Andritsaina in Bassae location in Figaleia Ilia prefecture (although the exact location of the temple is claimed by 3 prefectures , Arcadia, Messinia and Ilia) at an altitude of 1130 meters. The construction of the church was between 420 and 400 BC and architect of this unique edifice is Iktinus (one of the architects of the Parthenon). Apollo was named 'Epikourios'('Apollo the Helper') due to his help provided to the citizens of Bassae during a deadly plague in 429-427 BC
The temple of Apollo Epikourios located since 1989 among the World Heritage Sites of UNESCO which is due to many reasons. This is indeed the best preserved monument of classical antiquity and is the first in which use is made of Corinthian. This is the first Corinthian capital which is the standard for later.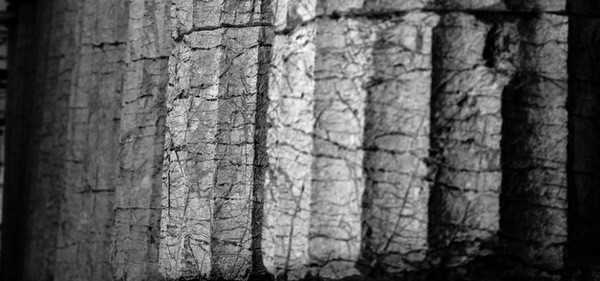 Another peculiarity that makes the temple of
Apollo Epikourios
unique is the fact that it combines all three architectural styles of antiquity, the Doric (external columns in proportion 6 x 15 instead 6 X 13 classic that was used in this period), Ionic (5 columns inside the alcove, marble friezes) and Corinthian.
Indeed, the marble Ionic frieze (23 marble) is from the late 19th century in the British museum where visitors can admire the artistic mythological representations of Hercules against Amazons and Centauromachy!
View photos from the temple of Epikourios Apollonas (or Apollon)


View map with the location of Epikourios Apollonas temple