Zante (Zakinthos in Greek) island is famous for its amazing beaches of all kinds. From long ones with gold sand and shallow wavy waters to rocky with deep and dark blue crystal clear sea. Nevertheless, what you will remember probably most is only one, Navagio beach will captivate your memories and probably make you visit Zante again at first chance.
Navagio beach means shipreck in Greek and obviously took its name from the ship that ended up on the beach after hitting on shallow waters while trying to cover from a severe storm. The ship's name was Panagiotis and it was carrying an illegal cargo of cigarretes. This happened back in 1980 or 1982 according to others.
Access to Navagio beach
Most small tourist boats going to navagio beach set out from the small village of Aghios Nikolaos which is located 33 Kms north of Zante town, island's capital. You better be there early in the morning so that you take one of the first boats to the beach. As you may already know, this is a very famous destination and in rush hour the beach can be literally crowded with people and tourists and saling boats on its shores. This is not ideal if you want to trully feel the unique landscape and enjoy the sea at Navagio beach.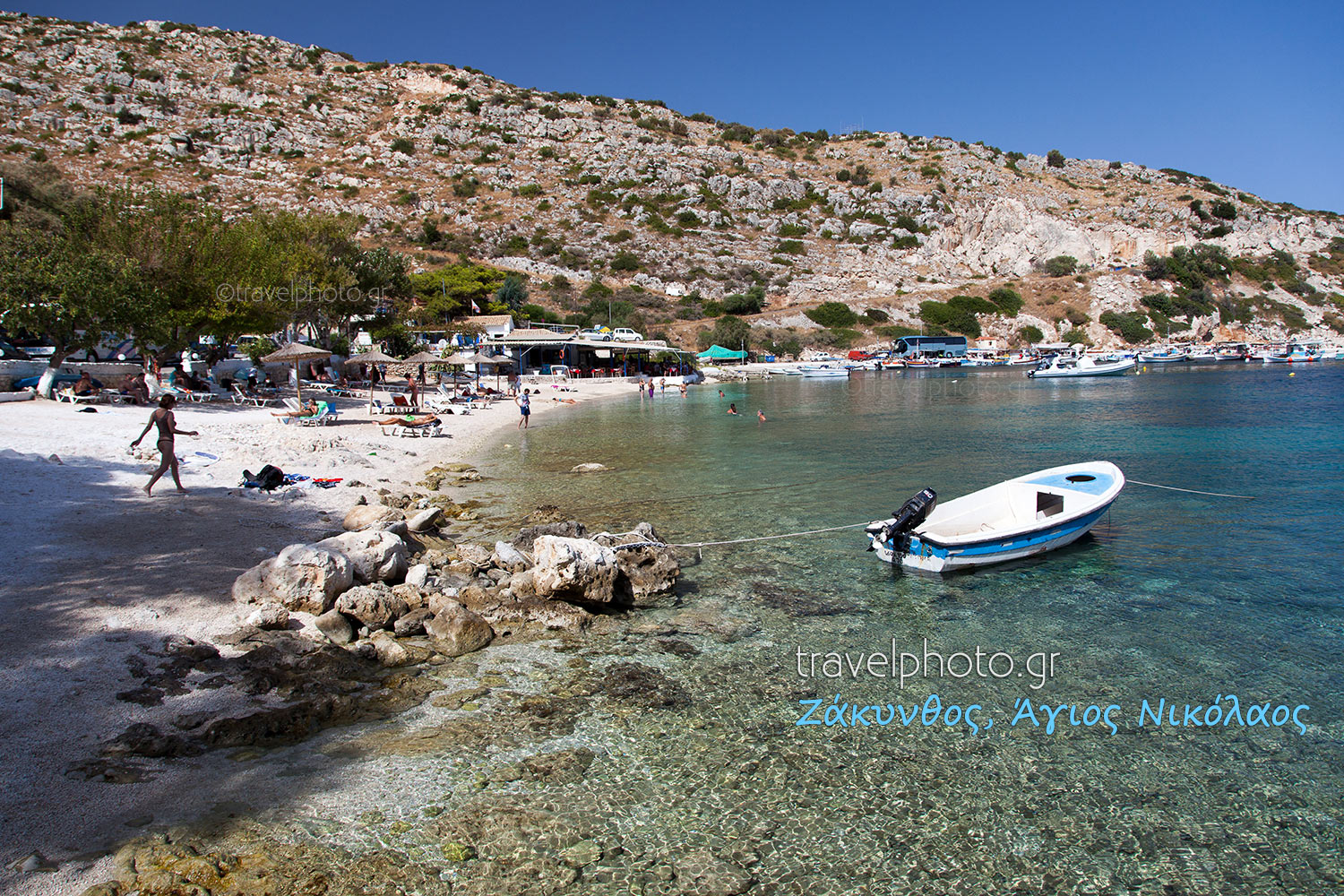 The beach on the small fish island of Agios Nikolaos from where you may take the tourist boat that will take you to Navagio beach.
When you arrive at Agios Nicolaos village do a small research and dont buy tickets from the first kiosk you will find. Do some research and find out if you can have more time on the beach than the usuall offers.
Dive in the blue caves
Some boats to Navagio beach also stop on the blue caves (small caves where sunlight reflections create amazing deep blue colors on the rocks and sea waters) something that is worth doing.
They usually stop for ten-fifteen minutes in total where they take you inside the caves (these not deep at all and not completely roofed but its still very nice feeling being there) and then get out where visititors can swim in the blue very deep sea.
Put on your swim goggles and enjoy!