Polylimnio is an amazing hidden spot full of green, small natural lakes and waterfalls located at the heart of Messinia prefecture.
It is a small gorge through which a small river and the ground's anomalies create plenty of small lakes, some of them are like natural swimming pools and a lot of waterfalls.
The largest waterfall is at lake Kadi where it falls from a height of more than 20 meters.

Hotels near Polylimnio | Polylimnio photos | Area map and access info tool
Access to Messinia, Polylimnio area
Access to Polylimnio is quite easy. Just follow the road from Kalamata to Pylos coastal city (or Messini to Pylos) and at Kazarma village turn to Xarafgi village. From there you may either follow the signs or ask a local for a better description. Both parking spots are easy to find and are very close to Xarafgi village. After leaving your car, you will walk for a while in order to find the narrow footpath that will take you to the first and most impressive Polylimnio location.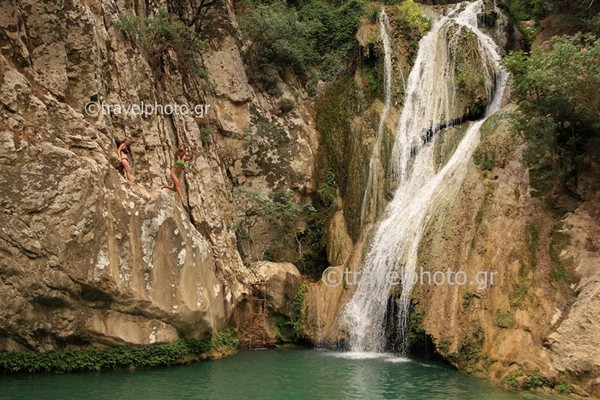 The footpath is easy to follow and there are supportive metal bars that will help you at a few more difficult points. The first big lake is Italos lake. From there the landscape is full of trees and blossomed flowers all the way up. Small tiny lakes and short waterfalls will be on your left as you walk to reach Kadi lake with its big impressive waterfall.
Lake Kadi, Polylimnio
Your first thought after the first thrilling moments will be to take a swim or better a dive to the lake. Kadi lake is very deep at most of its points so you won't have any problem to find a diving spot. The only problem will be water's low temperature even on summer months, so be prepared for a few minute "freeze". The experience though of swimming there, enjoying the natural massage from the falling waters or the dive from the tall rocks into the lake will compensate for any cold you'll feel.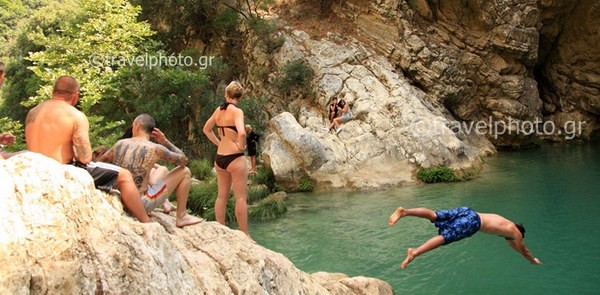 The other parking spot at Polylimnio will lead you after just a few meters to Mavri Limna lake which is much bigger the the rest, not so impressive, but very calm and cool under the shadow of big trees. It is ideal for a long brake or even a pic nic on the wooden tables by the lake!
On your way up, watch out not to run over the natural Polylimnio's habitants, large crabs and "smiling" frogs!

Accommodation news Polylimnio, Messina
Hotels in:
Distances are from Xaravgi, the nearest village. For more access info please check map below. by clicking on the red symbols.
Photos from Polylimnio in Messina Prefecture, Peloponnese.
Area map and access info tool.