Skyros island belongs to the island group of Sporades and is located very close to Evia's island small port of Kimi. Its main settlement and island's capital, Skyros village or Chora, resembles the Cycladic villages and not as much as those in the rest of Sporades' islands.
Useful telephones | Skyros photo album | Skyros map | Skyros accommodation
Skyrian horse
Skyros
is famous for the unique horse breed, the
Skyrian horse
, that although similar in morphotype to the horses we know, they have almost half of their size. This particular characteristic differentiates them from the similar sized Pony horses that look much fatter due to their big belly. It is one of the rarest horse breeds and they are protected by law.
Hotels in Skyros
Find rooms in Skyros at very low market prices from booking.com website.

Skyros Chora
As we have already mentioned, Skyros island is located very close to Evia and in specific to Kymi port. It takes no more than 1h and 45 minutes to reach its small port Linaria village that is only 9 kms from the Skyros' capital Chora . When you visit Skyros Chora do not miss to go straight up to the castle on the top of the hill but also to the monument of the famous British poet Robert Brooke who died in Skyros in 1915.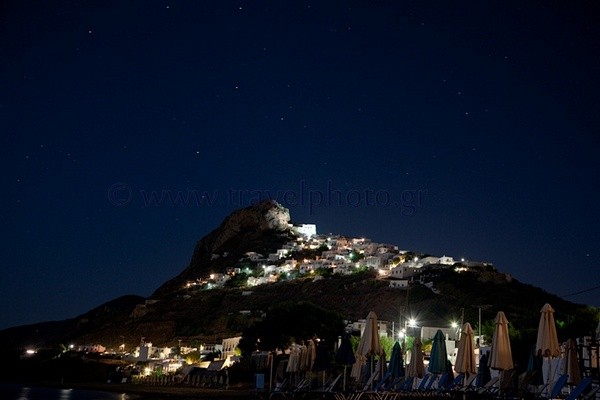 Both sites offer spectacular view to the Aegean sea and the eastern part of the island. In specific, you will see the small coastal settlements of Magazia and Molos with their long and wide beach. This is the most cosmopolitan coastal area with a lot of tavernas, restaurants and some nice beach bars.
Skyros beaches
In
Skyros
you will find some very nice sandy beaches and crystal clear water. You can swim even in the deep waters in front of
Cavos
cafeteria in
Linaria
village, which is Skyros' port. If you are lucky and be there during
ferry's arrival
you will be surprised by the way that Cavos cafe welcomes the newcomers by playing the impressive music from Stanley Kubrick classic movie "
2001: A Space Odyssey
" ! ! !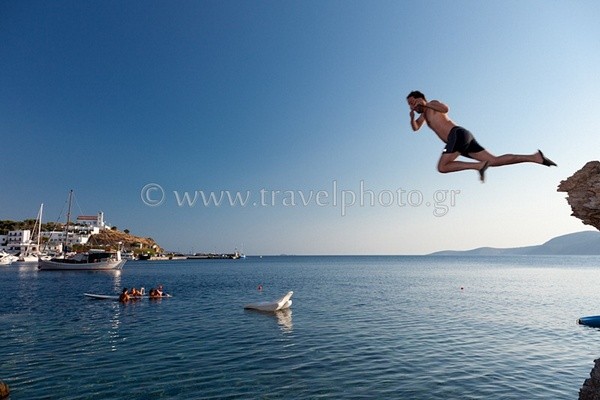 Some nice beaches you may visit in Skyros are Pefkos (west side of Skyros), Agios Petros (north part with a few km of dirt road), Acherounes (close to Linaria on the way to Chora), Magazia and Molos large beach, Kalamitsa (on the south-west area, close to Linaria) and many others.

Skyros – Useful Telephones
Greek telephone code: 0030
Ferry boat Kimi port
Τηλ. 2222 0 22020, 22522
Ferry boat Skyros
Τηλ. 2222 0 91790
Φάξ. 2222 0 93580
Ferry boat, Skyros, Linaria port
Τηλ. 2222 0 93465
Ferry boat, Alkion agancy, Athens
Τηλ. 210 3832545, 3843 220
Olympic Air: 22220 91625
Community Clinic: 22220 92222
Drug Stores: 2222091617, 2222091800
Port authority: 22220 93475
Police station: 22220 91274
Fire station: 22220 93199 (199 is the national fire department telephone number)
Skyros Town Hall, Call center:2222091929
Skyros photos
Skyros map