Dimosari gorge is located on the north east side of mountain Ohi in South Evia island and is one of the most beautiful walking paths in Greece. The 10 kilometer path starts at a height of 950 meters and ends at Kalianos beach in the Aegean sea. Walking path is singed and some of its parts were build in early medieval years as it was until recent years the only way of communication with the rest of the world and the city and port of Karystos.
Dimosari gorge is crossed by Dimosari water stream that especially during spring time and early summer is very strong strengthened by melting snow and underground springs. Its water is crystal clear and in many spots it forms natural pools in which many visitors dive and swim under small waterfalls! Most of these 10 kms are full of green and covered by the shadow of perennial platan and chestnut trees. Wildlife is very intense inside Dimosaris gorge since many unreachable spots offer refugee to many kind of animals like foxes, wild birds, lizards and snakes.
Photos from Dimosari Gorge | Area map | Hotels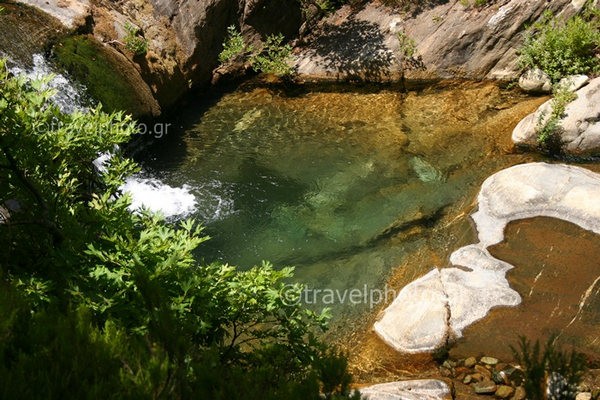 It will take you around 4 hours to reach the end of Dimosaris gorge at Kalianos beach and you will need someone to wait you with a car in order to return to Karystos city unless you want to climb up this time to your starting point. As a result you better visit Dimosaris information spot on coastal Karystos road in order to ask for any details and arrange anything you may need about reaching, walking and returning from Dimosaris gorge.

Karystos and Marmari hotels
Karystos city is the largest urban area in South Evia island and offers a lot of good and cheap accommodation solutions. Check out Karystos hotels in order to take a good look on available rooms and room prices. In addition you may stay at Marmari village. It is located 13 kms from Karystos (around 10 minutes trip) and you will have the chance to see it if you arrive at South Evia from the Rafina's port (this is the sooner and more convinient way to reach Karistos and Dimosari gorge.). Take a look at Marmari hotels.
Dimosari gorge photos
Area map