Agia Anna is a popular summer destination in north Evia island with a large beach, a beautiful village, organized coastal settlement and a large camping to host some of the visitors.
Agia Anna village is on the east side of north Evia with a view to the Aegean sea at a 300 meter altitude. Its beach is 6.3 from the main village on the coastal settlement of Aggali. It is one of the longest beaches in Evia island with a length of 6 kilometers. There except from swimming on the clear and usually wavy Aegean sea you can have your lunch of fresh fish or take your coffee and tidbit (mezes) at the cafeterias, ouzeris and tavernas by the beach.
View available hotels at Agia Anna and Agali beach from booking.com-Agia Anna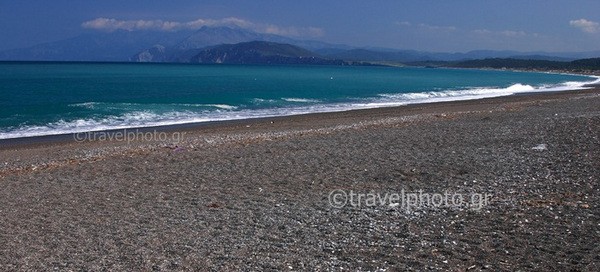 If you have time and mood to discover some of the beauties in
North Evia
you may visit
Drimonas waterfalls
(view map's red mark for access directions), Boulovivena gorge, the small city of
Limni
on the west side of Evia island or just go back to
Agia Anna
main settlement in order to visit its
folklore museum
.
Agia Anna village is 72 km from Chalkida city, Evia's capital on the central part of the island, and although the route is at sometimes tiring due to parts with a lot of turns, it is very nice due to the beautiful landscapes you'll see all the way to Agia Anna village and beach.

Photos from Agia Anna
Agia Anna and Aggali map