With many gold sandy beaches and an picturesque capital village, Anafi island offers probably the coolest way to discover the beauties of the traditional Cycladic Greek islands.
Access to Anafi village
There is not an airport on the island and ferry boats do not visit or leave it everyday. This on the one hand makes it harder to organize your trip but on the other adds to its mystery and kind of exploration feeling.
In the end it is also a deterring factor keeping away many prospect visitors who find it hard to take the decision for visiting Anafi.
Still, in high season finding accommodation is not always easy. Performing a search using the form below in order to check availability and prices on your preferred time period is always a good thing to do.
Anafi's Chora village
Chora village is built on a hill that overlooks the surrounding Aegean sea and as a result from most places on the village your view will be nothing less than beautiful. When you reach the top square on the east side you will also have view to the island of Santorini and the Aegean amazing sunset. You may go even higher and reach the top of this hill where a small picturesque church is built. From there your view will become even better and you will get a better look of the village and the huge rock on the east side that dominates the background landscape view.
Walk at the small village alleys and discover shops with local traditional products, traditional taverns (restaurants) with delicious Greek food and sea view and small bars to enjoy your cocktail under the full of stars sky.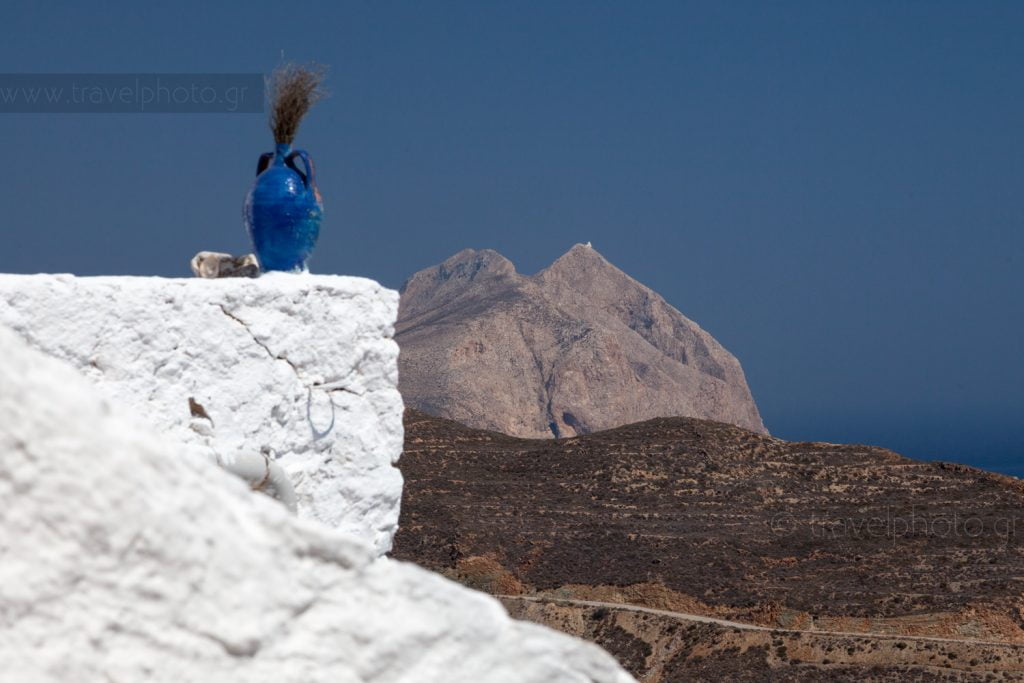 Beaches at Anafi
Please read our detailed "Beaches at Anafi" article in order to discover more info and some nice pictures from the amazing and numerous island's beaches.
Kalamos rock
Kalamos enormous rock is the second largest monolith in the Mediterranean area, Gibraltar rock comes first, and it really dominates Anafi's landscape.
It's viewable from most places in the island as its stands at a 460 meter height. Once inhabited by locals who wanted to secure themselves from various invaders, nowadays you will find on its top the Monastery of Panagia Kalamiotissa from where you may enjoy the view of sun rising from the waters of the Aegean see.
On walking distance from the monastery you can reach drakontospilo, which means Dragons cave in Greek.