Photos from Doxa lake | Doxa lake map (Click on the red sign) | Access to Doxa lake
Doxa lake is an artificial lake in the prefecture of Corinthia in Peloponnese and the municipality of Feneos. Doksa and Tsivlou lake in Achaia are the most beautiful lakes in Peloponnese.
It is surrounded by the tall mountaintops of Helmos (Aroania) and Ziria (Killini) mountains. In specific, Helmos or Aroania mountain (2.355 meters) , Ziria (Zireia or Killini) 2374 meters and Dourdouvana at 2109 meters. Doxa lake was created 10-15 years ago and ever since is one of our favorite quick escape destinations from Athens due to its close distance and relatively easy access. [Continue to article… ]
Loxa lake photos
Photos from Doxa lake
||
Map and access info
(Click on the red sign) ||
Access to Doxa lake
Doxa lake's natural landscape
Doxa lake is at 880 height and its small perimeter offers a unique chance to walk or cycle around it in order to get an Alpine feeling as the white mountain tops reflect on the usually calm lake's water. The small chapel on almost Doxa is the chapel of Agios Fanourios and sometimes and different spots it may seem as a small island.
A few meters above the lakes on one of the mountains slopes do not hesitate to visit the monastery of Agios Georgios (St.George). You will get another perpective of Doxa's view from one of the monastery's balconies where you may taste the delicious handmade rose sweet offered for free by the monks.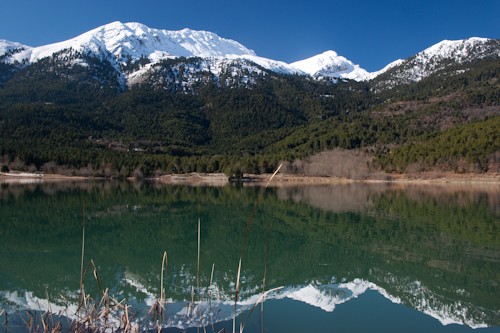 Accommodation in Doxa Lake
Access and distances to Doxa lake

Although Doxa lake is well "hidden" and protected by surrounding Achaia and Corinthia prefecture mountains, it is an easy to reach destination from Peloponnese cities like Patras, Tripoli and Corinth as well as from Athens. In specific the distance Athens-Doxa lake is 170 km through the village and the historic lake Stimfalia, it 92km away from Corinth, 148km from Patras city through Kalavryta and 78 km from Tripoli city. You may check other or alternative routes by clicking on the red mark over the map and then click "Directions".
If you come from Athens you will have to take the national highway from Athens to Patras. When you rich the small city of Kiato you have to follow the sign to Stymfalia. You will pass under the national highway and then follow the road to Stymfalia lake. From there the road turns quite curvy and uphill until you reach a point, after Kastania village, from where you will have a great view to Feneos valey. You will pass through Mosia and Mesinon villages and turn right to Ancient Feneos. You are only one kilometer away from Doxa lake!

Photos from Doxa lake || Return to top
Doxa lake map
For access info and directions click on the red sign