Makrinitsa village is one of the most traditional and beautiful Pelion villages. It offers amazing view to Pagasitikos gulf and Volos city and for this reason it is named as Pelion balcony.
The natural beauty of Pelion perfectly preserved architecture, breathtaking views from the square and the small distance from Volos, have made Makrinitsa one of the most popular tourist destinations in Pelion throughout the year.
↓ View all photos || ↓ Makrinitsa map || Hotels in Makrinitsa
Google translate from Greek article (slight modifications made)
Access to Makrinitsa
To reach Makrinitsa either coming from Athens or Thessaloniki, follow the exit from the highway that writes Velestino Volos, and just before you enter Volos city you will see a sign that says 'Portaria'. We get to the ring road of Volos and after passing the local city stadium, turn left after a few miles to Ano Volos and Pelion. After arriving in Portaria village you have just two more Kilometers to reach Makrinitsa.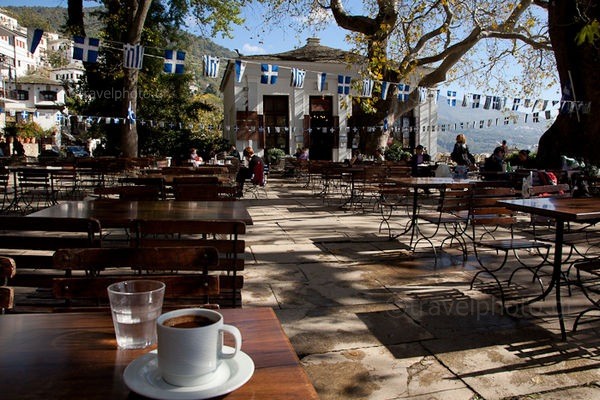 Makrinitsa, preserved traditional settlement with absolute protection, is built in an almost vertical slopes of Mount Pelion, which explains the large difference in height (400 meteres in vertical distance) of the first houses of the village in the district Koukourava until the last houses on settlement's top.
Communication between the Makrinitsa settlements was done using a neat paved path, kept in excellent condition even today that it is worth to walk on it from the main square up to the church of Virgin Mary. The streets were made of stone and wedged to facilitate walking at an average pitch man rocks protrude for better grip when it rains or when in snow or ice.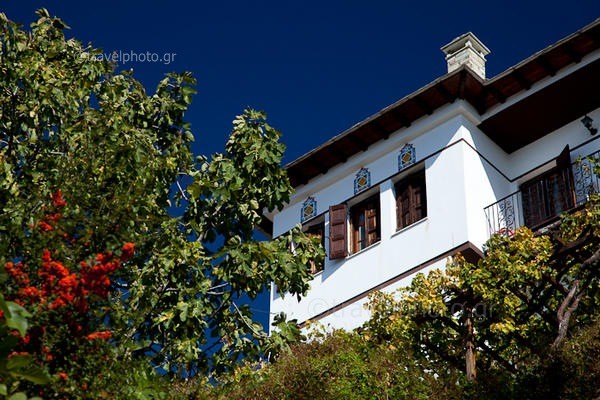 Makrinitsa central square and Theophilus cafe
The main Makrinitsa attraction is known as the balcony of the village, which is none other than the great square with trees, a panoramic view of Volos and the Gulf Pagasitikos, the church of John the Baptist, the marble fountain with four bronze lion heads and the immortal water and Theophilus, the traditional cafe where you will see the great fresco painting by the Greek famous painter Theophilos Hadjimichael, dating from 1910 and titled "Battle of the Cold Fountain". (view image section below in order to view the fresko painting in Theofilos traditional cafe)

Hotels in Makrinitsa and Pelion area
Makrinitsa photos
Makrinitsa map
Click on the red sign to get access info to Makrinitsa village.