The beautiful gateway to the secrets of Pelion.
Portaria is perhaps the most famous and visited Pelion village. This is due to the traditional beauty of the village and to the fact that is situated just 12 km from Volos town. Furthermore, during winter it is probably the last refueling stop for the Pelion ski resort (just 13 km) or the place for lunch, coffee and anything else that may relax skiers before returning back home.
Although Makrinitsa is not unfairly characterized as Pelion mountain balcony due to its central square's location, in Portaria you may find similar spots around the village that offer an endless view to Pagasitikos bay and the capital of Magnesia prefecture, Volos. A typical example is the point, just after the entrance of the renovated Xenia hotel, worth a visit and sit for a coffee or snack, depending of course on the season, to enjoy the beauty of Pelion mountain green slopes.
↓ Portaria hotels || ↓ View all photos || ↓ Portaria map || ↓ Pelion ski center snowcam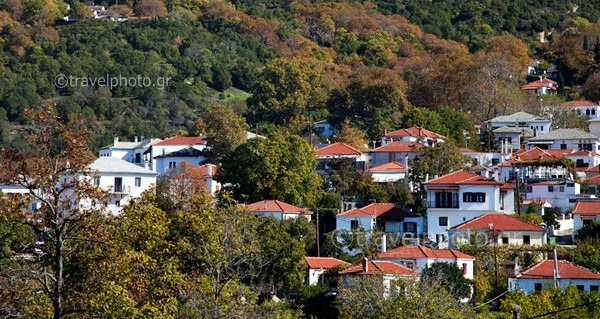 Melina Merkouri square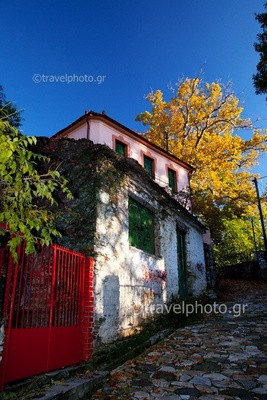 Visitors to Portaria must visit the two famous squares. The central square "Melina Merkouri" is perhaps the greatest of Pelion, and certainly the busiest and one of the most beautiful. It worth not only to walk and enjoy the smells that give off Platan trees, potted flowers, wood burning fireplaces in homes and of course the grill and cooked smells by the surrounding restaurants but also to have a sit there tasting any of the Pelion dishes as the famous Spetsofai and grilled local sausages with tsipouro drink or wine. As you reach Portaria central square and just a few meters before the stairs to it, you'll see a large spring which is likely to be crowed with people filling their flasks with water. From this point on the road up, you will find small shops selling local products such as pots with fragrant flowers, fruits like the famous Zagora apples , household arts and many sweets and honey!
Agioi Taxiarhes square
The second large square of Portaria is Holy Archangels (Agioi Taxiarhes). It seems to be slightly smaller and definitely more quiet than the central one. It offers excellent views to Pagasitikos bay and from there you can walk a little more to see the small waterfall Karavos and a different view of Portaria as lies on the mountainside. Another track worth walking, if you have two three hours available, is the well known and beautiful path of the Centaurs.


Portaria Accommodation
In Portaria village you will definitely find the kind of accommodation you like. From luxury hotels to cosy renovated mansions and guesthouses. Take a look at Portaria hotels and preferably book in advance since Portaria is a highly popular destination where tourist accommodations function at full capacity most of the times.
In case you can't find a room at Portaria you may as well check at Makrinitsa village hotels, 2 km distance from Portaria, or even to Volos hotels (12 km). In addition you may check most of Pelion hotels and guesthouses in order to see availability, pictures, reviews and some of the most competitive room rates.

Portaria photos
Portaria map
Snowcam from Pelion ski center (Agriolefkes)
Altitude 1340 meters

image from Snow Report