Voidokilia beach is one of the most beautiful beaches in Greece due to its amazing almost perfect round shape, its gold thin sand and the turquoise sea water! It is located on the west coats of Messinia prefecture and is easily accessed by car.
Access to Voidokilia
There are to ways to reach Voidokilia beach. One is by car after Gialova coastal small village and the other is again after Gialova but with direction to Divari beach. There you may park your car behind the beach bar and walk either through the ancient and medieval castle of Palaiokastro (water and a hat are required during climbing on castle and descending to the beach) or by following the narrow footpath that will lead you to Gialova protected lagoon bank and to the first sand hills as you approach on Voidokilia beach. Total distance is 5.2 kilometers approximately so take care against the heat and the intense Greek sun light if you decide to go on foot.
Photos from Voidokilia beach and Palaiokastro castle | Area map and access info tool | Accommodation
Gialova lagoon and Palaiokastro Pylos
Gialova lagoon is a very important migration station for birds as they enter or leave Europe on their way to or from Africa. Watch out for snakes as we saw a big one on our way back from Voidokilia beach.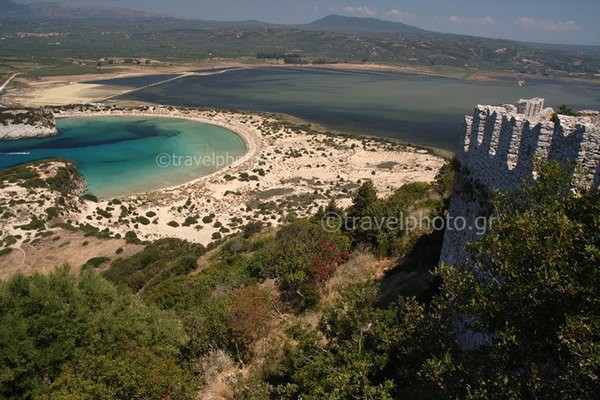 Palaiokastro on the other hand will offer you an amazing panoramic view not only to the beach of Voidokilia but to Romanos beach and the new luxury hotels unit of Costa Navarino on the north, the city of Pylos and Sfaktiria island on the south, Gialova lagoon on the east and the Ionio Pelagos on the west.
When you reach at the sandy beach of Voidokilia you will understand its magnitude both in size and in grace! It is the round shape, the gold sand and the crystal clear water that will keep you there for several hours and will make you promise that you will come back. A promise we gave too and are willing to keep as soon as possible

Hotels near Voidokilia beach
search for hotels near Voidokilia beach or in the small city of Pylos. Take a look at Pylos hotels.
In addition, the nearest place you may look for your accommodation is the area of Gialova. Moreover, Methoni and Foinikouda villages and their accommodation solutions offer an alternative option.
Don't forget to also check the luxurious and renowned Costa Navarino resort located just 15 kilometers from Voidokilia beach:
Finally, for a full view of Messinia hotels you may also take a look at www.booking.com respective website.

Photos from Voidokilia beach and Palaiokastro
Area map